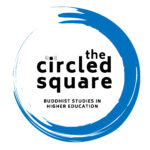 Episode 22 – Mushrooms for Enlightenment or Why Buddhism is Like a Shrek: A Conversation about Teaching with Sangseraima Ujeed
Episode 21 – Kate Hartmann, Teaching Online beyond the Pandemic
Episode 20 – José Cabezón: Teaching Tibetan Buddhism as Professor and Practitioner
Episode 19 – Jan Willis, Stories from a Black, Baptist, and Buddhist Teacher
Episode 18 – Todd Lewis, Social Context and the Power of Imagination
Episode 17 – Susie Andrews, Building Others Up
Episode 16 – Janet Gyatso, Teaching Posthumanism and Animal Ethics in Buddhist Studies
Episode 15 – Marcus Evans, Teaching Hip Hop and Buddhist Studies
Episode 14 – Rima Vesely-Flad, Black Buddhist Teachers
Episode 13 – Embodied Learning on Interdependence
Episode 12 – Teaching a Zen Buddhism Course Online with Student Preferences in Mind with Daigengna Duoer
Episode 11 – Teaching Asian Art as Storytelling with Kerry Brown
Episode 10 – Constructing Buddhist Theories of the Body from Ancient Texts with Luther Obrock
Episode 9 – Living Religion in the Classroom with Rongdao Lai
Episode 8 – Teaching Empathy and Collaboration with Frances Garrett
Episode 7 – Embodied Experience: Living from the Heart with Ellen Katz
Episode 6 – Buddhism and Contemplative Science, with Norman Farb
Episode 5 – Teaching Buddhist Art Using Museum and Gallery Collections, with Wen-shing Chou
Episode 4 – Negotiating the Layers: Material History in our Teaching, with Abhishek Amar
Episode 3 – Anti-Colonial Teaching and Buddhism, with Natalie Avalos
Episode 2 – Engaging Students in the Big Picture, with Matt King
Episode 1 – Inhabiting the Stories: Buddhism from the Inside, with Vanessa Sasson
Who We Are
Sarah Richardson (pictured below) hosts the podcast, interviewing guests from institutions around North America. Sarah is a historian of Buddhist visual and material practice, especially Himalayan painting.
Betsy Moss (pictured below) is the podcast's Creative Director. In collaboration with Sarah, she develops the strategic vision for the show and supervises the creative process including audio recording and production and designing visual assets for our website and social media feeds. She is the program coordinator for the Ho Centre for Buddhist studies. She also teaches art and design history and visual culture courses at several institutions in the Toronto area.
If you have an idea about a great interview guest or important topic for our show, please get in touch!
Host and Interviewer: Dr. Sarah Richardson
Creative Director: Dr. Betsy Moss
Consulting Producer: Dr. Frances Garrett
Consulting Producers: Anna-Liza Kozma and Jelena Jurak
Show Notes: Molly Mignault
Transcripts: Sam Keravica
Audio Editing: Jesse Whitty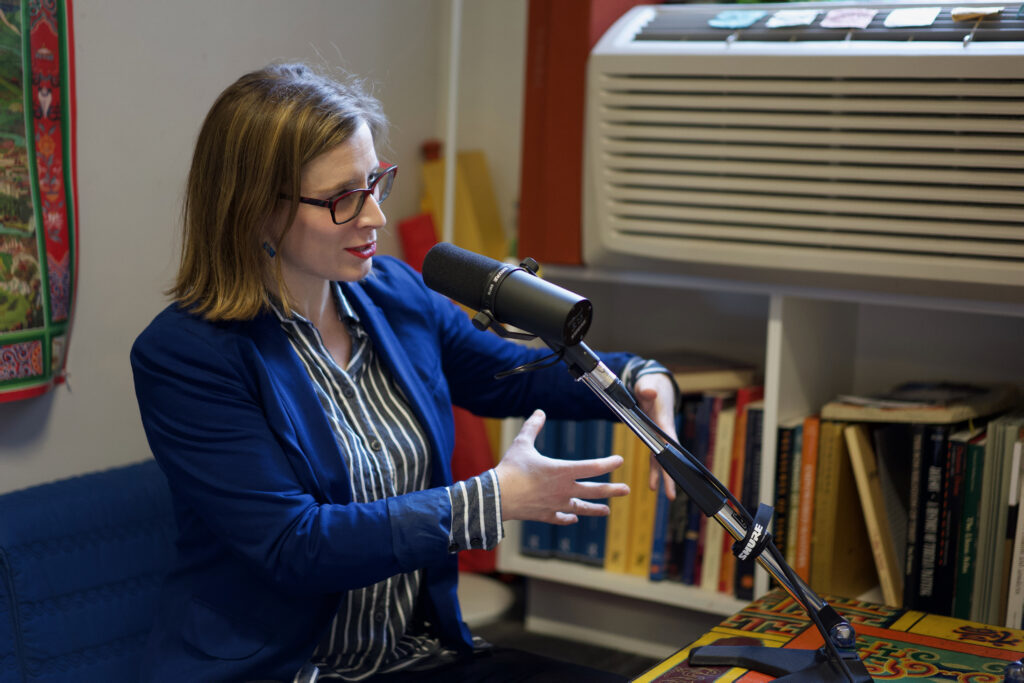 Credits
Music: David Gradual Sunrise by David Hilowitz. Creative Commons Attribution-Non-Commercial 4.0 International (CC BY-NC 4.0) license. Accessed through the Free Music Archive
Supported by The Robert H.N. Ho Family Foundation Centre for Buddhist Studies.




Sign up for the Centre's mailing list to be notified of new programs and events!